This article appeared in the Game Day Program for
the Giants Game 11 December 2005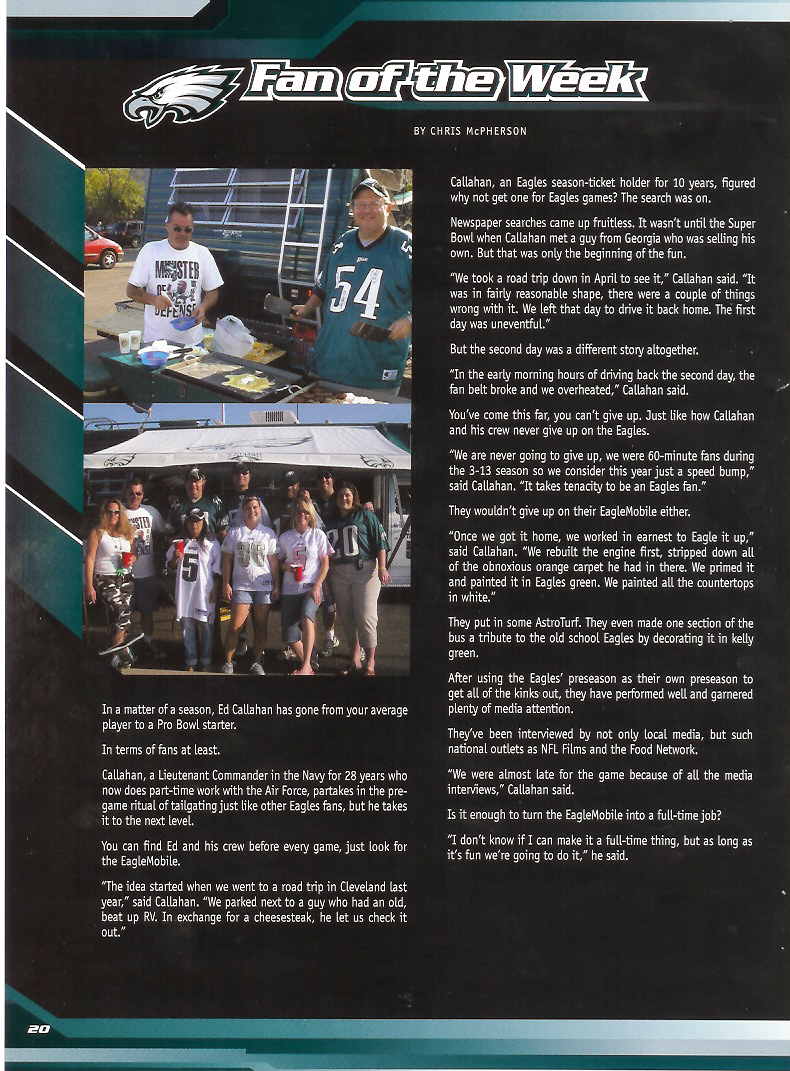 This article can also be found on the Philadelphia Eagles web site at
www.philadelphiaeagles.com/homeNewsDetail.jsp?id=44546
The Philadelphia Inquirer 6 December 2005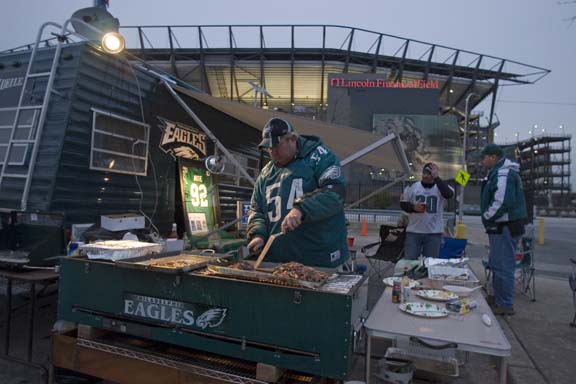 (Photo by Ed Hille, Philadelphia Inquirer)
Front Page, Section B, 6 December
_________________________________________________________________________________________________________________
Big Ed is # 1 Fan by a landslide and, in keeping with the finest traditions of Philly Sports, the EagleMobile crew came in 2nd!!
Thanks to everyone who voted and made this possible.
The final results are at:
http://www.realguysports.com/Group1SemiFinalists/Final8/Final8.php
From
Frankfurters, Friendship, and Football
Tailgating kicks off a new era of camaraderie in America
By Kara Zuaro
"Of course, tailgating buses and vans also get more extreme with every season. A group of eight Philadelphia Eagles fans roll to each game in their EagleMobile, a once-characterless RV that they converted into a supercustomized tailgating machine. Their Web site, TheEagleMobile.com, offers before and after shots, a photo of the priest who christened the vehicle, and a picture of the toilet bowl, which bears a Dallas Cowboys logo beneath the waterline."
Tips from the Parking Lot
Champion tailgaters share their hard-earned pregame (and postgame) wisdom
KEEP WARM
"Keeping warm is a state of mind. At the NFC Championship game last year, we tailgated in a 17-degree windchill. We used a gas chimney-style heater to provide some warmth. but most of it comes from the energy of our fellow fans." — Ed Callahan (a.k.a. Big Ed from the Northeast), TheEagleMobile.com

GO HI-TECH
"We have an HDTV DirectTV satellite connection and a 23" plasma HDTV to enjoy pregame shows and the other games that we watch in the parking lot before and after the Eagles game." — Ed Callahan (a.k.a. Big Ed from the Northeast), TheEagleMobile.com
You can read Kara's full article at:
http://www.epicurious.com/features/articles/tailgating/intro
IRVING, Texas, 19 Sept 2005 – After learning of the EagleMobile toilet art, an angry Dallas Cowboys owner Jerry Jones abruptly changed the Dallas Star for Week Two of the NFL season. The EagleMobile crew immediately filed a grievance with NFL Commissioner Paul Tagliabue claiming cowardice and fear in the face of criticism and First Amendment violations by Jones. Tagliabue issued an immediate order for Jones to revert to the EagleMobile toilet star for Week Three. Jones could not be reached for comment, but a source close to the Cowboys revealed that Jones was so incensed by the ruling that his face-lift ruptured. The source claimed that Jones' nose and mouth are now located somewhere between his right nipple and his left testicle. The source could not confirm that the Cowboys have hired Burt Reynolds to advise Jones on how to cope with multiple face repairs.
Cowboys WR Glenn models new Star

Jones before face explosion